San Stae Church
In its present form, the CHURCH OF SAN STAE (St. Eustace in Venetian dialect) is the result of a complete reconstruction of the previous building in 1678, the only known work of Giovanni Grassi. Thanks to a bequest of 20,000 ducats made by Doge Alvise II Mocenigo, however, the magnificent façade on the Grand Canal, incorporating the work of numerous sculptors, was added in 1709 by Domenico Rossi (Morcote, 1657 – Venice 1737), whose design was preferred over ten other submissions.
San Stae suffered from the nineteenth century's customarily harsh academic criticism of Baroque art, most notably John Ruskin's stern strictures in THE STONES OF VENICE and various other writings. Present-day appraisal, however, is much more appreciative, drawing attention to the elegance and inventiveness of Rossi's reworking of Palladian features, and the monument as a whole is often cited as one of the best examples of stylistic consistency in XVIII century Venice.
The restoration of the entire building was our first contribution to the safeguarding of Venice, with work beginning in 1977 under the direction of the architects Arnoldo Codoni of Lugano and Renato Padoan of Venice, and finishing in September 1979. Recognition of Pro Venezia Switzerland's huge commitment came, even before the main work started, in the form of the 1976 Prize of the Foundation for the Centenary of the Banca della Svizzera Italiana.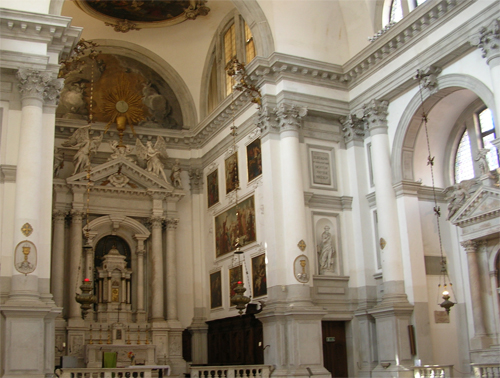 The appeal for funds to finance the project found an enthusiastic response throughout Switzerland, with contributions coming from the Confederation, a number of Cantons and Municipal administrations, cultural institutions, industrial, commercial and financial companies and over 1,500 private individuals. For its promotion of the project and the concerted response it prompted, the Federal Council was awarded the 1980 Torta Prize by the Ateneo Veneto.
For thirty years now, the church has also functioned as the primary venue for the presentation of artworks and installations by Swiss artists during the Venice Biennale. And in 2007, with our patronage, it was used to exhibit a large and fascinating pictorial composition by Pierre Casè of Locarno.